Posted By Judith on 25th October 2014
'Grassy Bottom', built in 1933 and lived in by the same family for the last 50 years, had been pretty much untouched, save for the installation of double glazing, until we came along! That was one of the things that appealed to us.
However, for some unknown reason one downstairs window in the old bathroom, which is now our downstairs loo and shower room, was never replaced. It's the right-hand window in this photo, the left-hand one, having been moved slightly earlier in the year, is now at the bottom of our new staircase.
The old window was in pretty poor shape. We did consider trying to 'bodge it', but decided in the end this would be a waste of time and a false economy.
So on Friday we had it replaced with a UPVC double glazed unit. It didn't take long to get the old window out,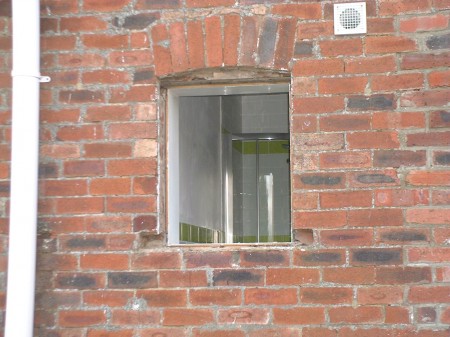 and soon the new one was in.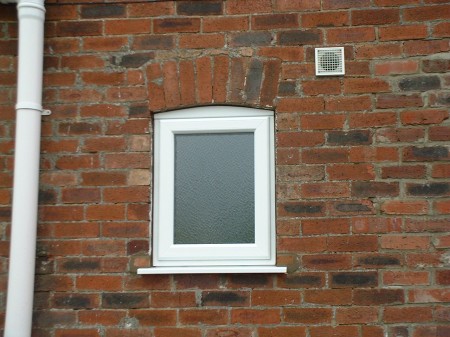 Job done.
Apart from double glazing the only other major alteration carried out in 'Grassy Bottom's 80 year history was the addition of a porch along the side of the property.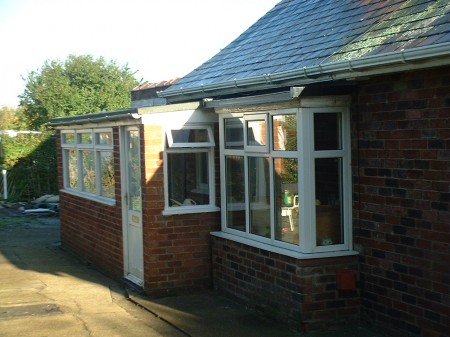 At the moment we are using it to store things that would normally be kept in a garage or shed, but eventually it will be what I believe the estate agents like to call a 'garden room' or 'sun room'.
Whatever you call it, it's a very useful space, not quite inside, but not quite outside either.
It was built in such a way that it encloses what was the outside loo, which will be very useful when I'm gardening and also the utility room which is Leonard's bedroom.
However, the window frames are wood and single glazed, so at some point I expect we will have to consider replacing these windows too, but they are in good condition at the moment so for now it serves us, and Leonard, perfectly well as it is.
Don't forget to put the clocks back!