Posted By Judith on 17th October 2014
Don't worry, this isn't another rant about NPower's shortcomings, it's actually about putting up a curtain pole.
One advantage of having the house completely re-wired is that you feel confident about where all the cables are embedded in the walls under the plaster, or at least you do until the time comes when you have to drill a hole in close proximity to the biggest concentration of cables in the entire place.
Specifically, we were fixing up one of the new curtain poles over what was the old pantry window in what is now the seating area of the dining kitchen.
Because the electricity meter is in that corner, all the cables eventually end up there, so we know that down the right hand side there are a LOT of cables, as you can see here. I'm pretty sure that I took the picture mid way through the process, so the number of cables actually increased in subsequent days.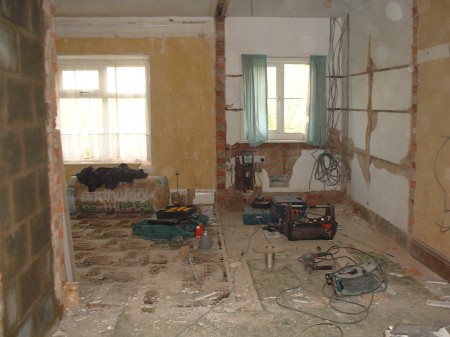 It was like tangled spaghetti, but potentially far more dangerous and I have nothing but admiration for the electricians who make sense of such puzzles on a daily basis.
When all the cables were threaded neatly down the wall and then rendered, things looked a lot neater.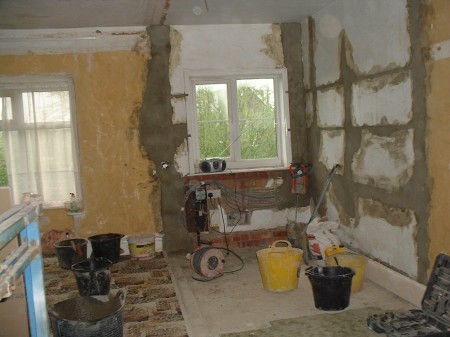 I use the term 'neater', it was still pretty much a mess, but looked slightly less of a mess when the 'finishing' plaster began to go on and the floorboards went down .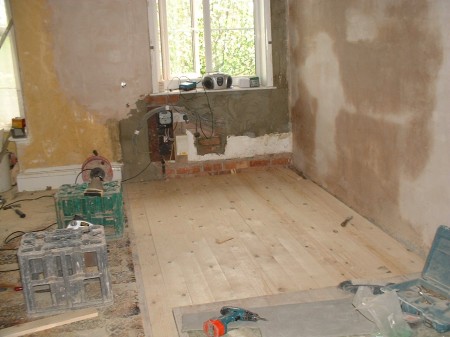 Typically we needed to drill the wall for the curtain pole very near to the 'spaghetti'. You can buy hand held devices to warn of hidden cables, but Peter preferred to use his own eyes, my photos, a long screwdriver and a torch, and so on Wednesday afternoon the shorter of the 4 curtain poles went up.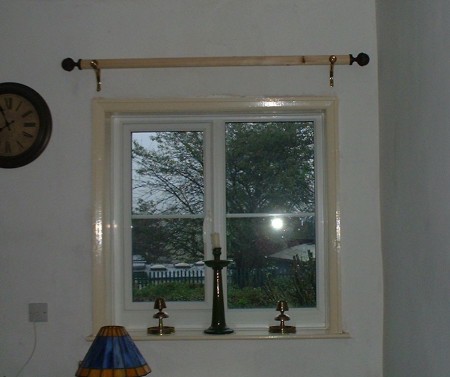 The electricity meter is still there, old and ugly and a nuisance where it is, hidden in the above photo by a blue and yellow table lamp. Moving it at our own expense is financially out of the question.
We will have to wait for NPower to 'roll out' their 'smart' meters to our area, heaven help us. We did ask them for a 'smart' meter back in March when we first started negotiating the gas supply, but that was a bridge too far.
In the meantime we will build a cupboard to hide it.
The pole will need to come down again for painting, and for decorating the room, but for now it's one of the more risky jobs ticked off our (very long) 'to do' list.