Posted By Judith on 31st October 2014
Well then it's official, today has been the warmest All Hallows' Eve in the UK since records began, reaching a heady 24C in the south east of England. I don't think it's been far off that here in Lincolnshire, and so I've been doing some gardening.
I've already mentioned that the garden contains some good quality plants, but sadly it has been neglected over the last few years, firstly due to Gladys's age, and in the last 8 months due to me being otherwise engaged!
Take for example this wonderful variegated holly, full of bright red berries, it must easily be 15′ tall. Majestic.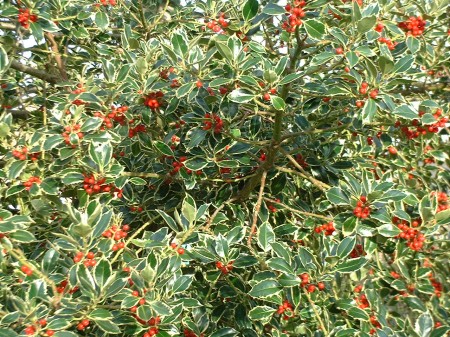 However, Gladys also seems to have favoured the grape hyacinth, a plant that I have never liked, no matter how hard I try. Consequently I dug up hundreds earlier in the year, and have dug up several hundred more today (sorry Gladys). They are everywhere.
I also took the opportunity to peg down some of the long branches from the newly planted plants in the cotoneaster hedge. My book says they can take up to 12 months to root, so once again I promise photos, but not until next year.
I don't expect the mild weather will continue for much longer.
Happy Halloween!