Posted By Judith on 27th September 2014
The week took a pleasant and unexpected turn on Wednesday morning when Adrian turned up unannounced to take away a wagon load of wood, and promised to return later for a second tranche. Needless to say he didn't, and we haven't heard from him since.
Still, not to worry, even though there must be easily another 2 loads left to shift, we felt spurred on by this small amount of progress and decided to demolish Gladys's coal bunker. Yes, she had a coal bunker as well as a coal shed.
Trouble was it was full of our gardening paraphernalia, stuff not really suitable for storing indoors. Undeterred we spent the afternoon emptying the 2 compost bins which were full of several years worth of garden debris, not compost.
They haven't been getting used for compost, so it seemed a good idea to use them instead as temporary, water-tight storage for plant pots and the like.
When we'd finished we felt quite proud of ourselves, though you could be forgiven for not being able to tell that from this photo, as I should have taken a picture before we started!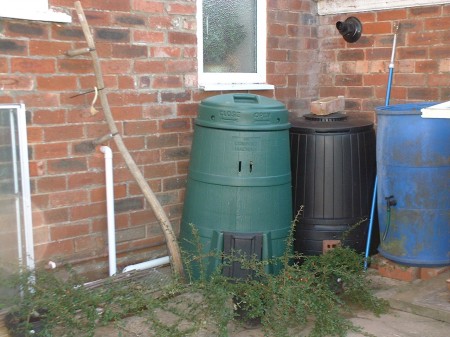 In the foreground you can see 4 pots of 'Cotoneaster horizontalis' that we are going to use in the hedge that we're making.
Remember the conifer hedge we butchered in April? Well it had cotoneaster growing within it, so we're gradually replacing the trees with this hardy, evergreen shrub with it's tiny pink flowers in Spring, followed by hundreds of red berries in Autumn.
This may take some time, hence the purchase of 4 plants to fill up some of the inevitable gaps. Pictures will no doubt follow in due course, but at the moment there isn't much to see.
And finally. 'Grassy Bottom' is situated on a large corner plot, this means we have 2 near neighbours. Gary and his wife on one side and Frank on the other.
Imagine our surprise when both of these neighbouring properties were put up for sale this week.
Was it something we said?