Posted By Judith on 8th September 2016
Have you ever thought that you had too much 'stuff'? The sort of 'stuff' that sneaks up on you when you're not looking and only becomes apparent during times of great upheaval like moving house or major renovations.
When we moved from Yorkshire to Lincolnshire in 1998, we had been living over our rented shop for 9 months, having sold our house. A lot of things remained 'boxed up', let's face it, when you don't have a kitchen there's no need for lots of pots and pans.
Even so moving 80 miles with your house and shop contents in a van, plus rather a lot of your garden in pots, and 4 cats was no mean feat.
Some 'law' or other says that things expand to fill the given space, and so after 15 years at Ravendale House we had done just that, to the extent that we left half the contents of the garage behind when we moved out.
Once again we knew 'Joiners Cottage' was going to be a temporary thing so didn't unpack much and though we had a kitchen this time, we didn't have a cooker, so back to the microwave meals.
Moving to 'Grassy Bottom' went pretty smoothly given our track record, but the problem here was that for the first 12 months the inside was in turmoil and for the next 12 months the outside was, which pretty much brings us up to date.
So, where do you keep all your 'stuff' in such circumstances? Well you have to be inventive and when that doesn't work anymore you just have to put up with the mess.
Lots of 'stuff' went in the porch, leaving poor Leonard just about enough room to swing a human being! Cans of paint went under the bed and in the bottom of the pantry cupboard. The spare Flymo went on the landing.
Gladys's compost bins were very useful for storing plant pots.
I also discovered a very useful hidey-hole under the Xmas tree in the garden. Not completely water tight, but pretty sheltered and dryish and completely hidden from view. I got a lot of 'stuff' in there.
Trouble is, what goes in must eventually come out and now we are sure most of the garden work is completed, I set about bringing out all the pots and garden ornaments. (The paint is already in the shed, though as I write the spare Flymo is still on the landing!)
Here is a selection of what I found.
Seed trays.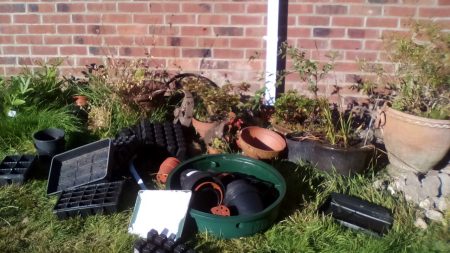 Plant pots.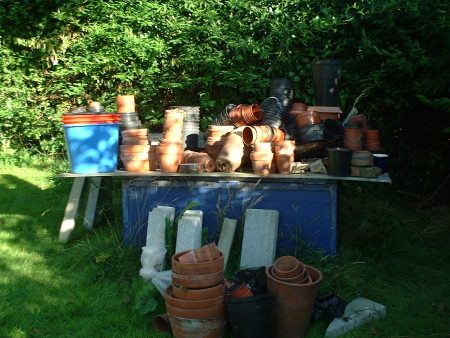 Chimney pots and ornaments.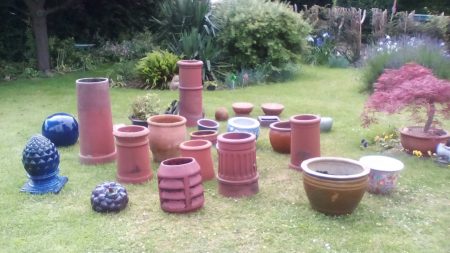 In short, too much 'stuff'.