Posted By Judith on 5th June 2015
Remember when we cut down the 7ft tall conifer hedge last year and the last piece to go was right at the end by the house, the last man standing?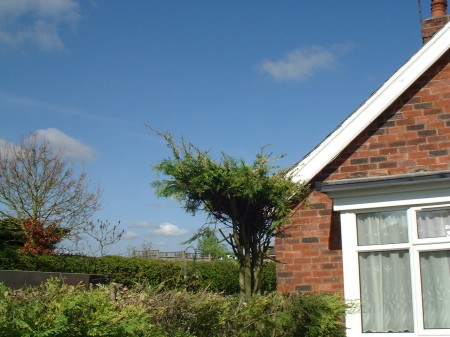 Well, since then we've been trying to persuade the cotoneaster, buried deep within the remaining tree trunks to become the hedge, using the trunks as a frame-work to grow against.
Well here is what that same end looks like today. I know the perspective is a bit difficult to grasp when you don't know the place, but you can see the bird feeder in the distance in both photos, if that helps.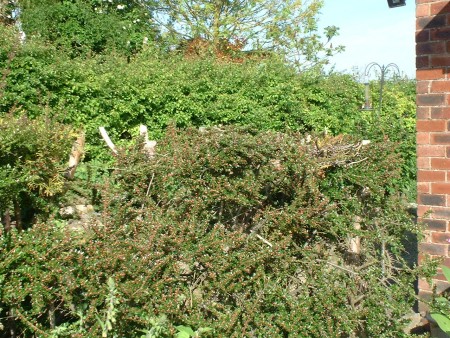 The bees are busy pollinating the tiny pink flowers, and we're pretty pleased with the result, though I should own up and say this is one of the better bits, and the rest is in varying degrees of 'work in progress'.
This next picture shows it from a different angle. You can see foxgloves, and in the foreground 3 of the sunflowers I grew from seed (any excuse for a picture of Leonard) planted next to sturdy canes. They might not look much now, but just you wait and see.
Then right at the bottom there is a small clump of recently transplanted Polygonatum 'Solomon's Seal'.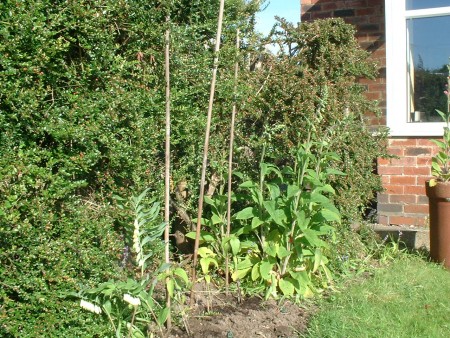 'Solomon's Seal' is a truly beautiful plant. Peter calls it the Maria Sharapova of the plant world! Sounds strange, but I kind of know what he means. Slender and elegant.
Hopefully this small specimen will grow into a handsome clump like this.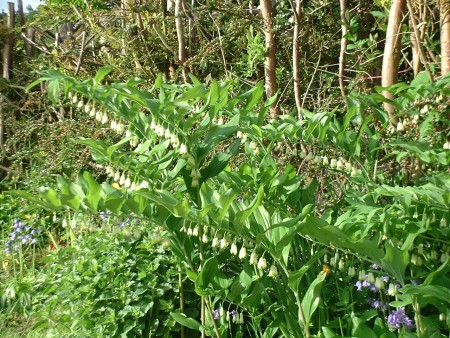 Great oaks and all that.
On a D.I.Y note the replacement shelves have arrived and have been 'finished' to match the work tops. Now all we have to do is fix them to the wall.