Posted By Judith on 24th October 2016
My sister and I grew up in a 2 bedroomed house in Halifax, West Yorkshire. It had a small front garden and an even smaller back one. Neither of our parents enjoyed gardening in fact I seem to remember that eventually my dad paved over the front lawn and planted a few dwarf conifers.
Nor were our parents into D.I.Y. My mum was a great knitter and my dad much preferred sitting at the sewing machine making clothes for the 3 ladies in his life to wielding a hammer or a paint brush.
He was very good at dressmaking, I still have fond memories of my black velvet trouser suit and my purple satin trousers have passed into Calder Valley folklore!
So it's perhaps surprising that Janice and I, quite independent of each other, have turned out to be keen gardeners and that we have also plunged into the murky world of house/garden renovations in the last few years.
Here in Lincolnshire we have tackled 'Grassy Bottom', but Janice and her husband Graham have gone one better and renovated a semi derelict cottage in the heart of beautiful Aberdeenshire.
We thought it was tough here, but they had a round trip of over 800 miles before they moved and even after they left Halifax were living in a static caravan for many, many months.
But that's all behind them now and they're living the dream. The caravan is a distant memory.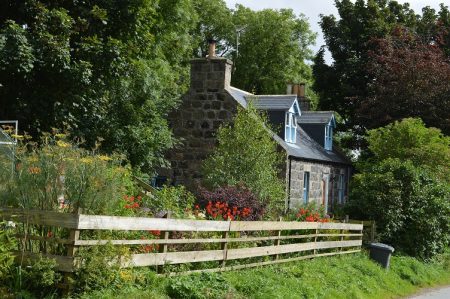 They have 2 beautiful Black Labradors, brothers Arran and Skye (I have no idea which is which) and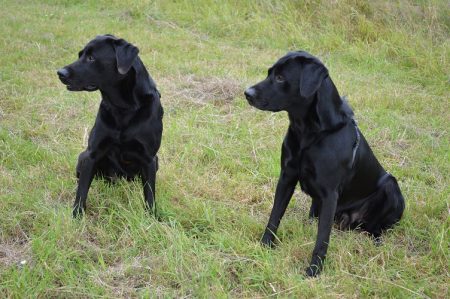 4 pet sheep. How cool is that!! Let me introduce you to them.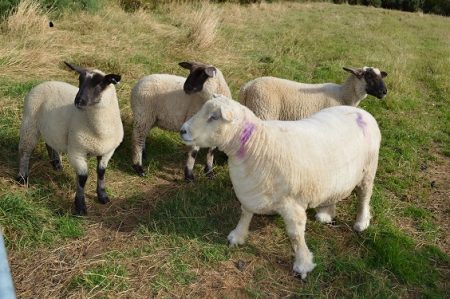 In the foreground is Milly whose quite an old lady now, sadly her companion Molly died earlier this year. She's not lonely though as the lambs (from L to R) Hazel, Fiver and Bluebell have arrived to keep her company.
This is a lovely picture of Bluebell with Fiver just behind her, whilst Hazel asks "Does my bum look big in this?".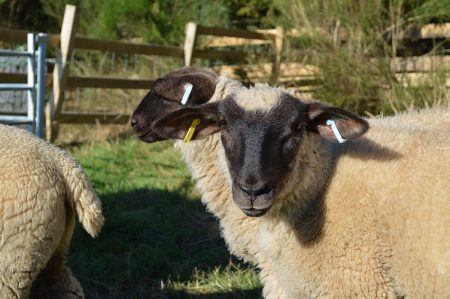 Neither Janice nor I can dress make like my dad and I gave up trying to knit when I got cats, so how can it be we have both chosen similar paths. I'm not aware of any horticultural/agricultural antecedents, or any builders/carpenters for that matter, so where do we get our gardening/D.I.Y genes from?
Perhaps Gregor Mendel (1822 – 1884) should have studied Janice and I instead of peas, then they could have called the book documenting his life's work, 'A Monk and Two Sisters', though on second thoughts that might have attracted the wrong kind of reader, if you catch my drift!!! 😉