Posted By Judith on 9th October 2017
Don't worry, we haven't embarked on another building project, nor am I taking Peter to a fancy hairdresser so he can have a change from the 'No.3' he normally gets from me, no this is about extending the paths and beds in the vegetable garden.
If you remember it was the last 'big' outdoor job and back in August I wrote about the progress (or lack of) so far.
This is how it looked then.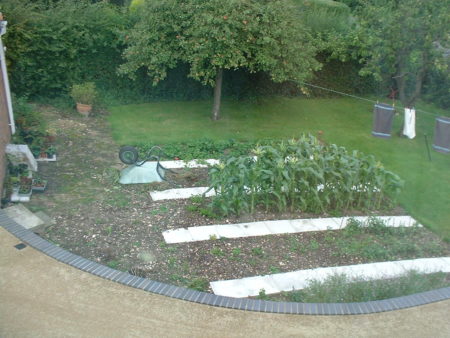 The sweetcorn was still to be harvested and the weeds were rampant.
Well since then I've picked the sweetcorn which was excellent and planted up a new strawberry bed, but as my growing season is over (I'm not into Winter veg) more work can now be done on extending both the beds and the paths to take full advantage of the space.
As you can see here I started extending each of the main beds by 3 slabs which is about 54″, it's hard and often muddy work,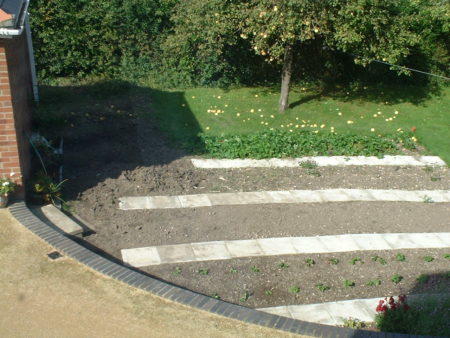 and I was glad when I'd finished.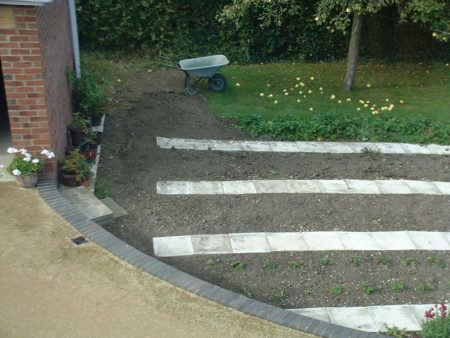 The vexed question now is, what happens to the 'no mans land' between the end of the paths and the garage? More paving? Stepping stones? Gravel? Small veg beds for herbs etc? Watch this space.
But here's the thing. Although the concept and design of the vegetable patch were all Peters, I have provided 95% of the 'labour'. That includes, digging, planting, weeding and laying slabs, no mean feat for a pensioner of my dimensions!
Needless to say Peter says my slab laying isn't perfect and he's right too, it isn't, but do you know what? I don't actually care.
This is my vegetable garden made with my own hands and hard work and I'm immensely proud of it.