Posted By Judith on 8th May 2017
Given the goings on here over the last 3 years you'd think that the relatively simple job of ordering a pallet of 60 basic concrete slabs for the vegetable garden paths would be well within our capabilities.
On Friday we had been ready to accept delivery of the slabs from 8.30am as no time guide was available. We were still waiting at 4.30pm!
We knew that when they did arrive heavy lifting would be required and didn't want to embark on another job as at our age we have limited energy, so we sat around in the garden all day.
Fortunately it was sunny, but the wind was still cold and even though it was very pleasant, sitting around waiting for a delivery is intensely boring and surprisingly tiring.
To be fair there had been communication of sorts during the 8 hours.
It began with a 'phone call around 11am. It was the carrier, whose first question threw me slightly. Did we have a fork-lift truck on site?
He went on to explain that the pallet had been over loaded by the vendor and was falling apart. In addition to this it was too heavy for the hydraulic lifting gizmo on the tailgate of their wagon.
I didn't see what we could do to rectify either of these issues and to be honest it didn't strike me as our problem anyway, so he agreed to try and resolve the issues and promised to ring back in 10 minutes.
Three hours later we had heard nothing, so Peter rang him. "I've just got off the phone to the depot and was about to ring you" he said. Yes of course you were!!
He had managed to get the slabs split onto 2 new pallets and we could expect delivery in about an hour, (3pm) if not he would ring us. Yes of course you will!!
3pm came and went and needless to say no slabs and no 'phone call. Then around 4.20pm we got a call from the driver. He was about 30 minutes away. Yes of course you are!!
Actually he was and turned up, after 1 more phone call for directions, at 4.50pm as promised!
Even though the load had been split onto two pallets they were ferociously heavy, but the driver and his mate managed to manoeuvre them down the drive and as near the proposed vegetable bed as possible.
We began to unload the smaller of the two, but ran out of steam leaving the second one for the next day as you can see here.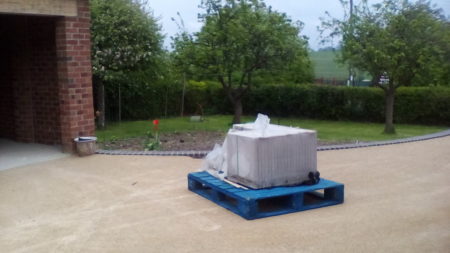 We finished unloading on Saturday morning and now all the slabs are safely stowed away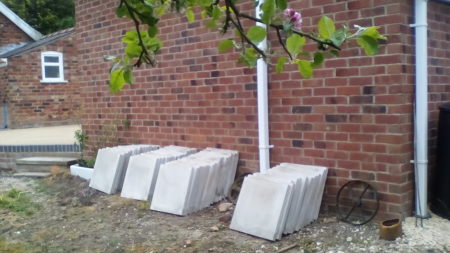 ready to be laid when we get our second wind!
Pictures of further progress will follow in due course.