Posted By Judith on 24th May 2014
As I write this there are only 5 'sleeps' left before we move into 'Grassy Bottom' next Thursday, and despite this being the end of week 10 every single room is still in disarray.
There could be an element of amused 'schadenfreude' if it was happening to someone else, but Peter and I aren't laughing any more.
Monday saw the arrival of the electrician, and by the time he left we had 2 outside lights installed and an exterior power point. We also had power to all our indoor sockets, but he can't finish the rest of the stuff until the plumber's been and moved the old sink, but I'm afraid 'Stand-up Steve', not for the first time, was a 'no show'.
No sign of him Tuesday either, but we did take delivery of the new range cooker. It took 4 strong men to carry it down the drive. We had said he could reverse his van in, but he took one look at our demolished gate post and thought better of it.
On Wednesday the chimney sweep came,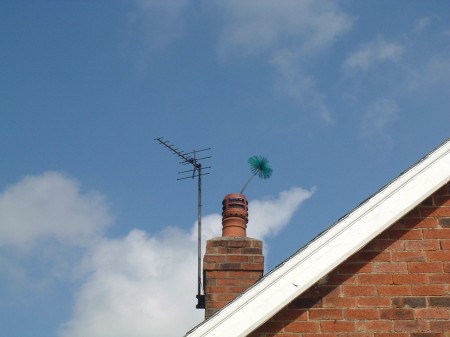 but I'm afraid things went downhill after that when 'Stand-up Steve' finally arrived, and it turned into the afternoon from hell, so the least said about that the better.
On Thursday and Friday radiators were painted, 'Balmoral Red' and 'Navy Blue',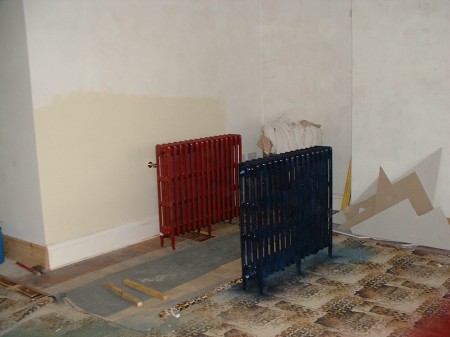 and the first one, 'Sage Green' was installed.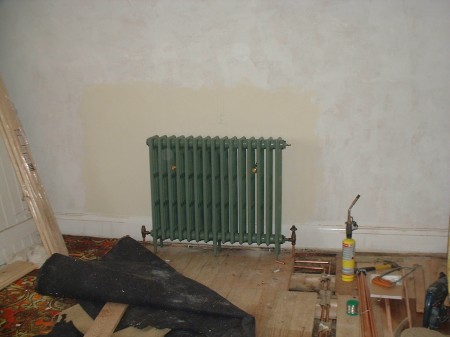 With their shiny brass wall fixings they look very cool, if that's not an oxymoron!
Elsewhere plumbing, tiling and joinery resumed while Danny 'Block Work King' built an arch in the newly swept chimney breast.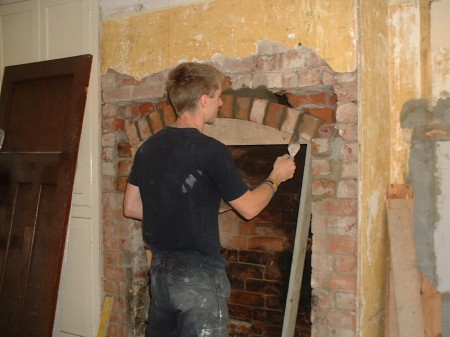 This is where the cooker will live eventually.
We're now faced with yet another Bank Holiday weekend, but have been assured that work will continue despite this. Believe me it needs to!
What happens in the next few days is anyone's guess, but it's obvious that our idea of finishing decorating before we move in is a distant memory.
The removal van has been booked, so I hope the next time I write we will have moved in. We've chosen a different removal firm this time to try and avoid the nightmare that happened in September.
Wish us luck!!