Posted By Judith on 17th May 2014
It's hard to describe week 9 in just a word or sentence, because lots of 'stuff' happened, yet we still haven't got one room finished sufficiently for proper decorating to begin!
Let's start off with the deliveries.
The cast iron radiators arrived on Monday. Here you can see 4 of them, covered, waiting to be painted.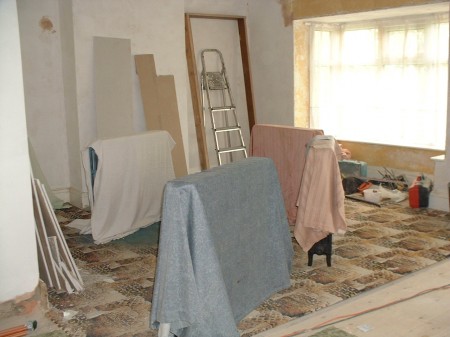 On Wednesday most of the bathroom and shower room fittings arrived, followed on Thursday by the bath, which may or may not be suitable depending on the size of it's outlet pipe??!!
The plumber was here for 4 days. 'Stand-up Steve' might not make it as a comedian, but he certainly knows how to 'plumb'. He will return on Monday to continue the good work.
The electrician did a full day and two half days doing the second fix electrics. He will also return on Monday to do the final bits and pieces before he, (as he likes to say) 'livens it up'.
Meanwhile Lee has been tiling the bathroom and shower room and Danny crawling about in the loft with the last bit of insulation. What a horrible job that was. In between times they have cleared a load of rubbish from outside, fixed door frames and skirting boards, and I painted more things white.
Whilst preparing the chimney in the old kitchen for the range cooker, it became apparent that we need a chimney sweep. Great more muck! At least soot will be a change from brick dust, or am I just kidding myself. Anyway, sweeps are supposed to be lucky, aren't they?
He's coming Wednesday morning all being well. Then on Friday we can look forward to a visit from NPower, yes you heard me correctly, NPower, to connect the gas supply.
Finally, take a look at next doors lilac tree that overhangs our drive. It's magnificent. This picture hardly does it justice.
P.S. Good luck to Hull City in the F.A cup final this afternoon.