Welcome to 'Grassy Bottom' a rather unusual 1930's bungalow set in the beautiful Lincolnshire Wolds. We bought the property in February 2014, but as it was in need of some sympathetic modernisation, didn't move in straightaway.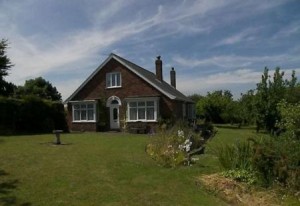 It was a long and difficult journey to get here, which you can read about in my previous blog ravendalehouse.com, but that's all behind us now. This website is all about going forward.
Built in 1933 the property has only had 2 previous owners, indeed the last incumbent lived here for 51 years, and obviously took good care of it, which might explain why lots of it's original features have been kept intact.
Not that I'm wedded to 1930's style, but you have to be impressed by 80 year old internal doors, all in their original condition, and all with matching bakelite handles.
Incidentally, I looked up bakelite, as I didn't know how to spell it. It's 'Sunday' name is 'polyoxybenzylmethylenglycolanhydrided' and I certainly didn't know how to spell that!!
Whether 60 years of age is actually the right time to be taking on such a project is debatable, but on the 'plus' side we might be older but we should be wiser, and we have the money in the bank too, following the sale of Ravendale House.
In other words a chance to put 40 years experience of house ownership into practice, and to fulfill a lifelong ambition.
So there we are. This will be the story of 'Grassy Bottom' I hope you will enjoy reading about it.
Post Script
Sadly in September 2018, my life changed forever and after a lot of ups and downs, I finally sold 'Grassy Bottom' in June 2020.
I'm now living in a village near Huddersfield and will continue writing this website under the same title, telling the story of the next chapter of my life.
The only change is the strapline. No longer 'Life in a Wold', now 'Grassy Bottom, Life in the Pennines'.