Posted By Judith on 1st June 2014
Week 11 could best be described as a hive of feverish activity, in fact on Wednesday (the day before the move) we had 8 tradesmen on site, nightmare when you only have 5 mugs.
By the time everyone left things were nowhere near finished but at least we had a large, cleared space for the first time in 11 weeks. We just needed to remove the carpet, which has served us well as a 'fitted' dust sheet.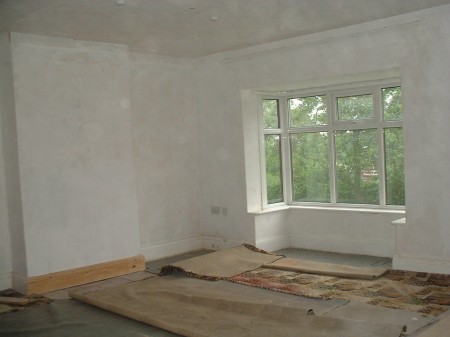 As far as the actual move was concerned, there was no major mishap, other than they were a bit late arriving, but after that a very thorough and professional job.
They drove their removal van carefully into the joiner's yard for the best access to our door, and the window, which had to be taken out again to allow the sofa and table to be removed.
After a couple of hours loading, the lady across the road told us there was a big funeral taking place at lunchtime (we live on Church Street) and there was a big turn-out expected for the deceased, who was a local GP.
She wasn't wrong. About 11.30am the cars started arriving and by noon were parked both sides of the road, in both directions, making it impossible for anything to leave the yard, never mind a removal van.
Trust us to clash with the funeral of the year. Thankfully the good doctor shuffled off just in time for the van's safe departure, around 1pm.
We were just about to follow them when a stranger wandered into the yard. It turned out he and his family had come over from South Africa and were looking to rent in the area, and had seen the cottage on the Internet.
He obviously wanted to look round, so I gave him a whistle stop tour, not exactly what I needed at that moment, but he did seem like a nice chap, and I assured him we would be back over the weekend to clean up before handing the keys in!
So then we collected Leonard and off we went to Binbrook.
The removal van was already there, as were the builders and plumber! The unloading went smoothly and everyone was gone by 5.30pm.
It was only then that we realised we'd left the cutlery tray in a kitchen drawer at the cottage. No great surprise there as we once forgot a washing machine!!
After some scrabbling around in boxes the only cutlery the 3 of us had for the first 48 hours in our new home was 1 knife, 1 teaspoon, 1 fork and 1 desert spoon, a fact that made for some rather interesting dining arrangements.
Remember the large open space of Wednesday? Already a distant memory!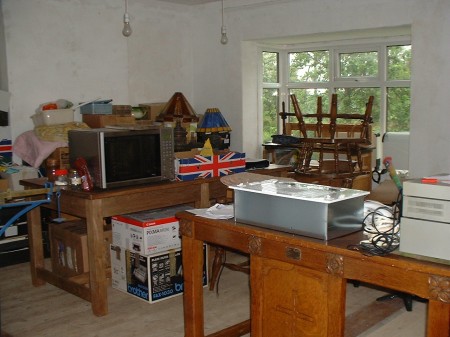 If you think that looks bad, you should see the other rooms!
And finally, the celebrations, not what you might think.
When I was checking the removal men didn't take anything out of the outhouse at the cottage that wasn't ours, I came upon an old tin. On opening it up imagine my surprise when it was full to the brim with 'Celebrations' chocolates.
They looked in good condition, we ate a couple, tasted OK, what a splendid find. For the last 9 months I've been living just a few yards away from a big tin of chocolates and didn't know it!
Needless to say they won't be here in another 9 months.
Perhaps I'm easily pleased, but sometimes simple, unexpected 'celebrations' are the best kind.
Now more hard work begins. The builders will be here again in the morning as there are lots of things to finish off, but at least we're in, safe and sound, with no major mishaps.
Goodbye 'Joiners Cottage', hello 'Grassy Bottom'.