Posted By Judith on 25th January 2016
Having outdoor work starting in January is not ideal, but the idea was always to get it out of the way before Spring. The consequence of such an early start is that the weather has given us a lot of mess and a lot of 'down' time.
So what does any self-respecting gardener do to pass this time?
Pour over the seed catalogues?
No, I've got lots of saved seeds in stock, I can buy what else I need cheaper on the high street and I got a lovely set of 'RSPB' seeds for my birthday.
Plan the years planting?
No, at the moment I really have no idea what my 'new' flower beds are going to look like (the design is in Peter's head) and the flower beds I do have are already packed with refugees from all the destruction.
Read books to get ideas for planting schemes and plant combinations?
Wrong again, I'm no great reader and anyway I think Gladys has the plant thing just about covered.
So what do I do?
Why double-sided jig-saws of course!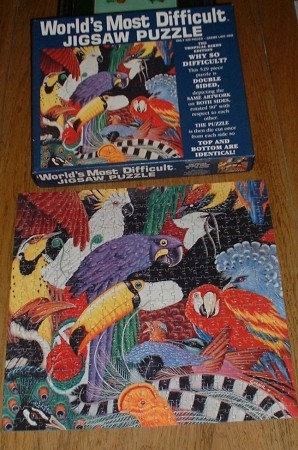 This cat one is particularly tricky.
Not that I'm suggesting they are the "World's Most Difficult", indeed I have a '1,000 piecer' of a thatched cottage where the camellia growing up the gable end almost drove me to drink.
I don't know where I got these 2 from, but I've recently discovered that charity shops are a good source of cheap and unusual jig-saws. Obviously you run the risk of pieces being missing, but I've been mostly lucky so far.
Strangely my worst experience turned out to be one of my favourite puzzles. It's of the famous 'Green Man' by Peter Pracownick but all the straight edges are missing!!!
Speaking of such things, as a surprise for my birthday Peter bought me a 'Forest Sprite' plaque for the garden, and here he is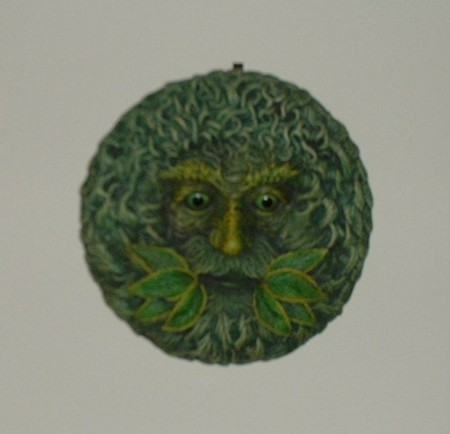 I love him, however I have a problem with his nose, which in profile looks like it belongs to Alexander Armstrong! Not that I have anything against Mr Armstrong, but I do find his nose profile rather unnerving, just take a look next time you watch 'Pointless'.
Needless to say I have named my new friend 'Xander'.