Posted By Judith on 27th January 2016
Monday saw the return of the small digger to begin digging the foundations for the garage now that the ground has been cleared of old concrete and rubble by 'big brother'.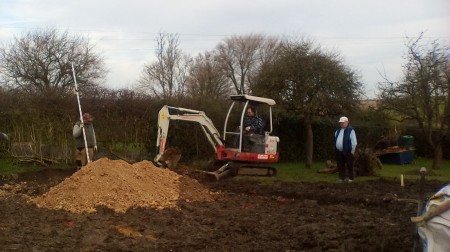 Lots more destruction followed but as the new concrete won't be delivered until today, Tuesday was spent digging a trench to accommodate the pipe which will disperse the rain water from the roof in place of the 'troughing on the ground' which had been there before.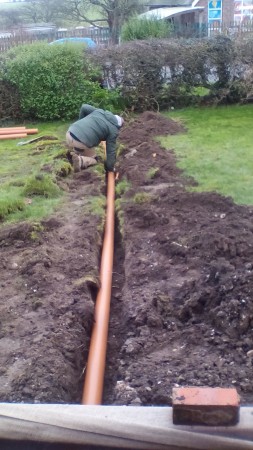 Another similar arrangement was dug to disperse the water from the garage roof.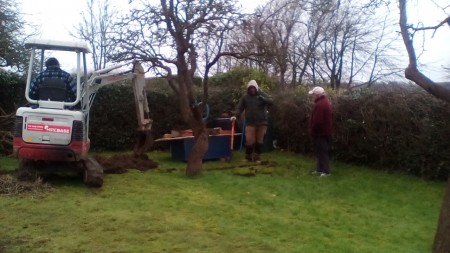 I'll probably have a water butt there, but it seemed like a good idea to put a pipe in as well, just in case.
It was during this second excavation, which came perilously close to the cesspit, that we discovered this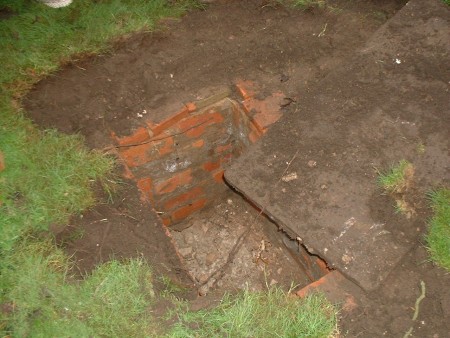 a brick lined chamber covered by a huge Yorkstone slab. It was presumably built at the same time as the house as an overflow for the cesspit, but as you can probably see it is clean and dry, and shows no sign of ever having been called into action.
The new pipe was laid, the slab manouvered back into place and the soil and turf replaced, lets hope it remains clean and dry for the next 80 years!
Concrete mixer due this morning, photos to follow.