Posted By Judith on 7th May 2019
Over the years Peter and I did a lot of D.I.Y. Jobs big and small, usually on a tight budget, culminating in the renovations of the house and garden here at 'Grassy Bottom', where we clearly needed some professional help. Even so, we still did a lot of the work ourselves.
I was always the labourer. Fetch this, carry that, hold this up, hold that down, stand on that end, clear this up, you know the kind of thing. Not that I'm complaining, we made a good team. Every successful workman needs a reliable 'right hand man' and I became very good at it over the years more than pulling my weight in the various projects.
But I never lead a project of my own. Not until now that is.
The fireplace in the front room, an original feature of the property, is a work of art, slate painted to look like wood and very convincing it is too. However the tile surround is disappointing for such an impressive piece. Here it is from the estate agents photo from 2014.
Here it is after we'd cleaned it up a bit and decorated.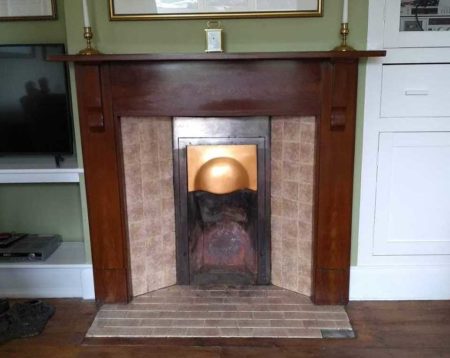 Better I'm sure you'll agree, but for about 2 years now I've wanted to paint the tiles to brighten it up more.
Although Peter liked the idea in principal he said I wasn't capable of doing a good job, even though I thought I was, so that's how things were left. But the idea has never gone away.
After conducting experiments on the tile from the bottom right corner of the hearth which had very helpfully become loose, I still thought I could do it. Encouraging words followed from the 2 most important ladies in my life (you know who you are) and that was all I needed, I decided to give it a go.
And so on Wednesday May 1st 2019 I began my very own project.
It's all in't preparation.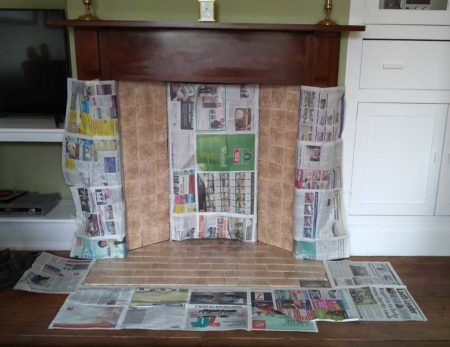 No going back now!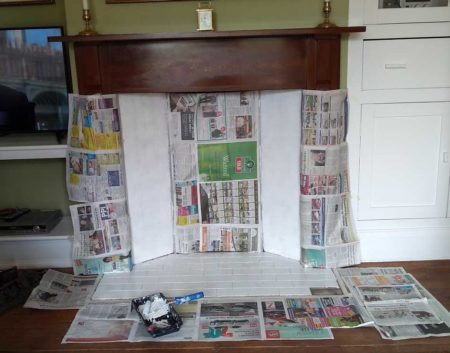 Base coats done.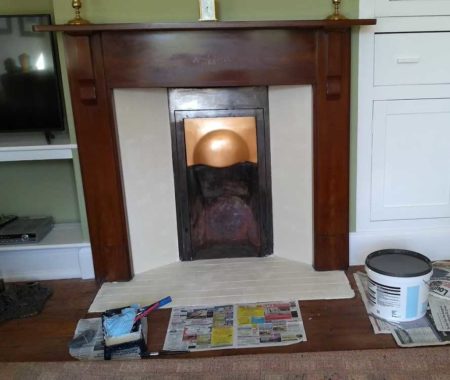 Now for the scary bit, it didn't help that the masking tape was the same colour as the background!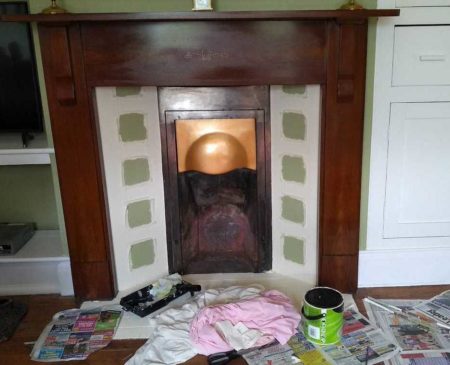 And it's always a tense moment when you remove it, but I needn't have worried.
So far so good.
Onwards and upwards.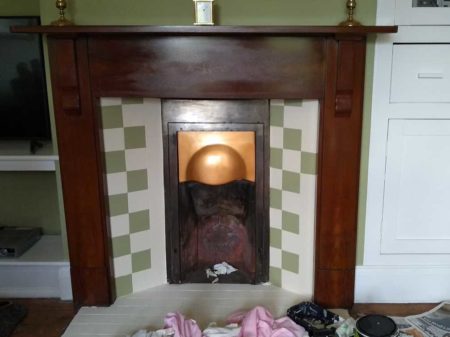 To infinity and beyond.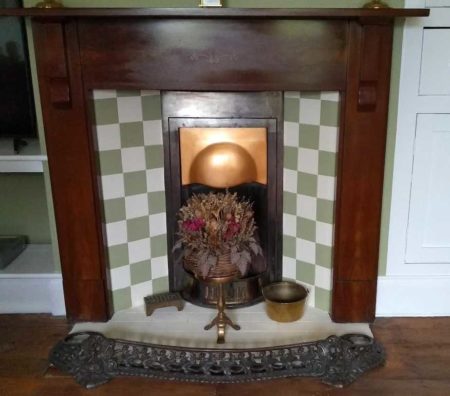 Today a fireplace – – – – tomorrow the world! (I even fixed the loose tile.)