Posted By Judith on 25th April 2015
Almost 12 months on from moving into 'Grassy Bottom', I find myself still counting weeks, though not in quite the same way as I was back then.
13 weeks ago we ordered our kitchen. Three bespoke, free-standing, sold pine cabinets plus 6 wall shelves.
At the time we were given an estimated delivery 'window' of 6 to 9 weeks. Yesterday, some 13 weeks and 1 day later the kitchen was delivered.
We were pleased with the 3 main pieces, the precise and complicated measurements we had specified had been followed to the letter, or perhaps I should say to the inch, but the 6 shelves were all wrong on several levels and were sent back to be replaced with what we had ordered.
However, we now have the makings of our kitchen. All we have to do now is paint them and finish the work tops with some suitable preparation, then manoeuvre them into place, which could be fun as the biggest one is extremely heavy.
These are the 2 matching work-top units.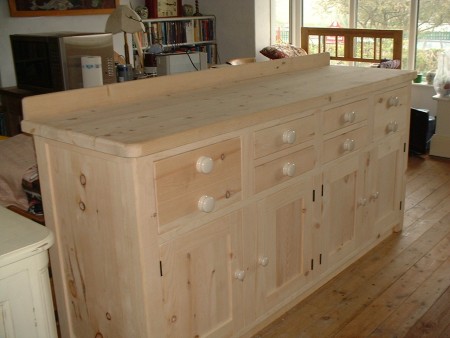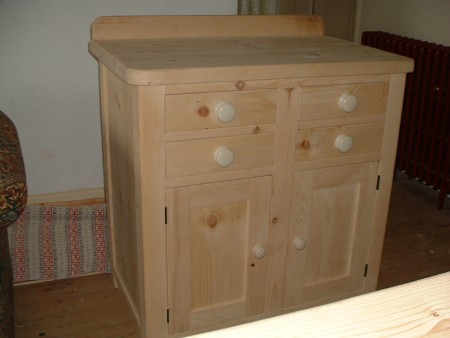 The third piece has a different function. Remember the wall with the ugly electricity meters that used to be part of the old pantry? Well look at it now.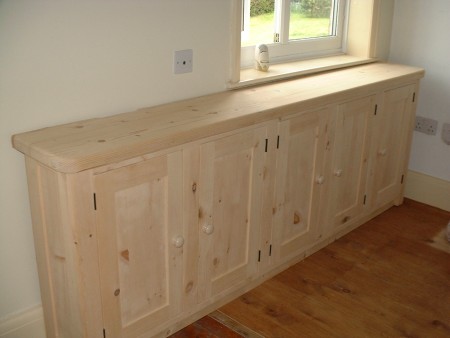 Feels like we are making progress, though at the moment most things aren't in their proper place and there isn't room to swing a cat. Leonard will be pleased!!