Posted By Judith on 28th December 2020
What does the colour yellow make you think of? The sun? Lemons? Primroses? Advocaat? Coldplay? (I prefer the Jodie (Dr Who) Whitaker version to the Coldplay original).
Yellow is my favourite colour.
Turns out Vincent van Gough was quite a fan too, (the colour not the song) though opinion is divided as to whether it was due to his eye problems or overconsumption of Absinthe, rather than free personal choice.
For me, yellow is joyful, a harbinger of Spring, daffodils and primroses are 2 of my favourite flowers. So it seemed perfectly natural to use the colour somewhere in my redecorations of no.14. But where?
Answer? The kitchen.
Looks OK here doesn't it?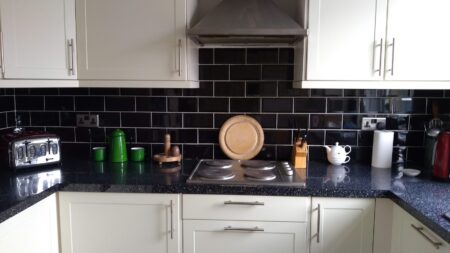 But the ceiling needed painting and I had to get rid of the retro wallpaper on the opposite wall. Here it is if you missed it, with Suki and Grayson (under protest) acting as models.
My idea was to start the job after Xmas and New Year, but with another lockdown looming, I decided it would be wise to get the paint beforehand. I'd decided on 'Luscious Lemondrop'.
When I got it home I opened it. It was gloriously creamy and yellow.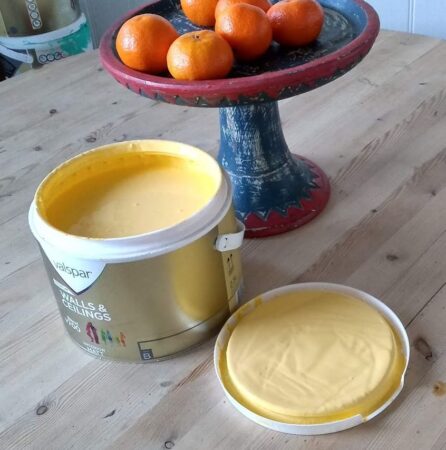 I knew I only had two choices. Pour it over some sticky toffee pudding, or paint it on the walls. Not surprisingly I chose the latter, though interestingly some accounts would have you believe that Van Gough sometimes ate his paint. Too much Absinthe no doubt.
I started small,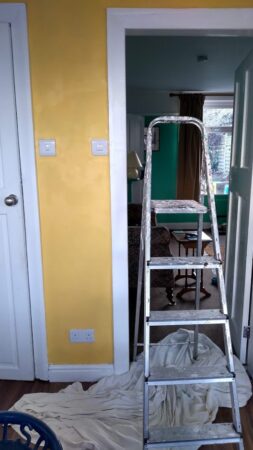 then moved on to the 'feature' wall.
I decided to leave the large herb rack in situ, as I know from bitter experience how hard it is to move, so had to paint around it. It took 3 coats of white to hide the retro pattern,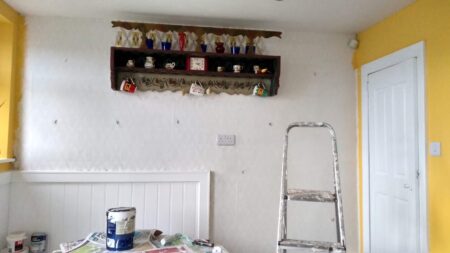 the bit above the herb rack proved quite a challenge. Then 2 more coats of yellow to finish the job.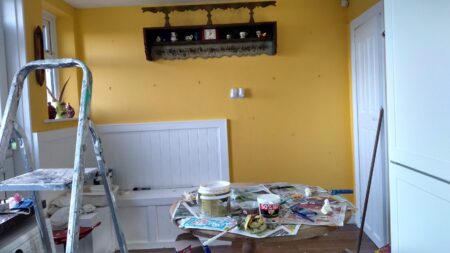 Finally, I replaced all the paraphernalia, festive baubles and mugs (Believe in Your Elf). It had taken me 2 days.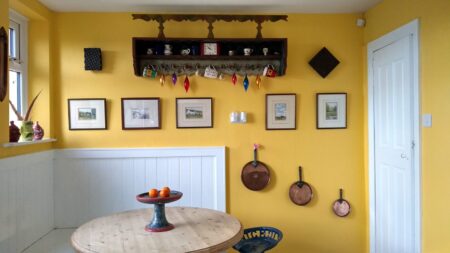 And so by teatime on Saturday December 19th I'd finished. Not bad for a job I wasn't going to start until January!
Addendum
Eager to move on to the upstairs, I went online in search of suitable colours and was surprised when, on Valspar's website, I couldn't find something akin to 'Primrose Yellow' which is a contender for the staircase. How could this be?
So as an experiment I looked for 'Luscious Lemondrop' (as above) and sure enough there it was, looking exactly the same colour as an old fashioned Elastoplast!
Maybe it's my computer screen, or perhaps I've had too much Absinthe!
Happy New Year!!