Posted By Judith on 2nd March 2020
So what do you need after the most stressful 17 months of your entire life?
Why a holiday of course!
Whether the Isle of Skye in February would be everyone's first choice destination is another matter. Even without the frenzied overtures of storms Ciara and Dennis, it's a pretty wild and wonderful place and if you then throw 2 small children into the mix, well it was never going to be restful!
As I've said before, in my situation trying new things and having adventures is the best way to go, so way back at the beginning of last year when I was first asked by my niece and her family if I would like to join them on their Skye adventure, I'd jumped at the chance.
They had found a beautiful house to rent overlooking Loch Bharcasaig, a small bay on the indented coast of north-west Skye at a place called Ard Roag, a remote hamlet, with views of the Cuillins. (On returning home I discovered that 'Roag' means 'noisy place' or 'deer bay' in Norse, and 'Ard' is an old Gaelic word meaning 'high'.)
What could be more perfect? Well, the weather for a start, I tracked the forecast in the preceding week and it was going to be decidedly 'brisk'. But no matter, it was going to be an adventure, and it was going to be fun.
I would be away from home for 10 days in total so arrangements were made with neighbours for cat sitting and the like, then all I had to do was pack.
I worked out the last time I went away for that length of time was way back in 1980, so the packing itself was a bit of an adventure.
I made a start. Thermal socks, scarves, gloves,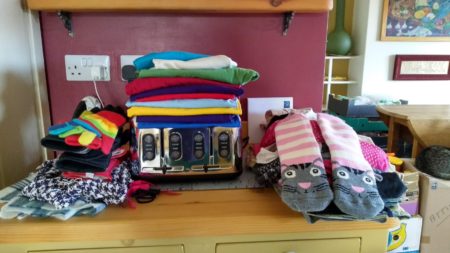 no, I wasn't taking the toaster, just the kitchen sink!
Then I got a stowaway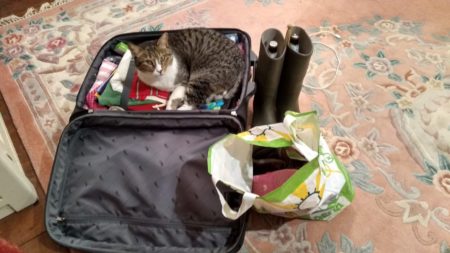 Leaving the 2 of them behind was going to be hard, I just hoped they'd keep each other company.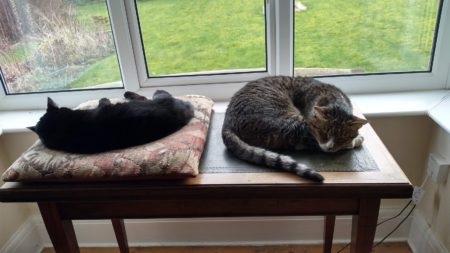 Lots of holiday pictures next week.