Posted By Judith on 28th June 2014
Week 15 started on Monday with an unexpected visit to the vet. If you want to know how not to take a urine sample from a cat, click here.
On Tuesday Adrian and the boys came, fitted the taps to the sink, carted away a load of rubbish and fitted the shower and shower screen.
Wednesday was Peter's birthday, so we treated ourselves to a day out at Hemswell Antique Centre, one of our favourite places. Trouble is it takes a lot of stamina to walk round the whole thing, and we're a bit short on that at the moment.
Thursday and Friday saw lots of progress, but the main event was the installation of the sink in the kitchen.
It sounds quite simple but in practice was pretty hard work, mainly due to it's location in the bay window and subsequent route of the waste pipe.
Here we have Lee and Peter fixing the back, which will be visible from outside.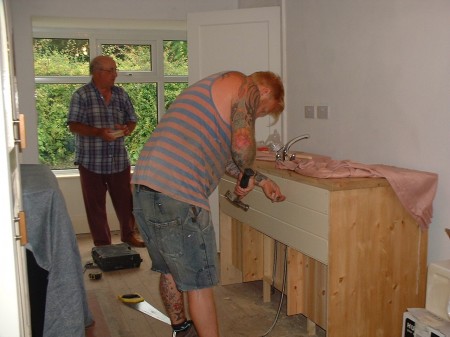 How many men does it take to fit a sink?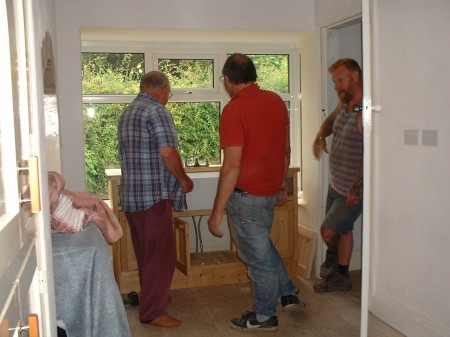 The finished article.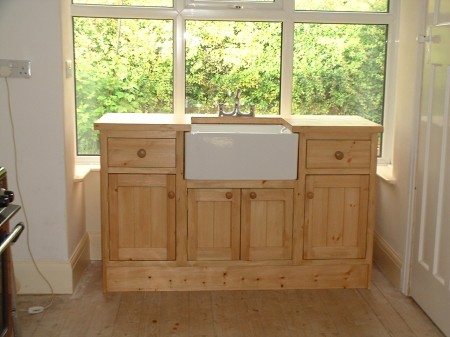 Monday should see the end of the last few little jobs, a bit of cement here and a floorboard there, before the visit of the building inspector. I don't suppose any of us will breathe easy until he's been and signed us off.