Posted By Judith on 8th October 2019
The Cinnamon Trust is a charity that cares for the elderly, the terminally ill, and their much loved pets, in fact it is the only specialist national charity that helps people and animals in their final years, and I have been a volunteer since January 2012.
Anyone who has owned a cat or a dog will know what good company they are and this is even more important in later years when people are often lonely and unwell. Old age and ill health shouldn't be a barrier to having a pet in your life.
My first assignment was to walk Benson, a large and enthusiastic Black Labrador, who was guide dog for a Mr Good. The RNIB had said he wasn't getting enough exercise and approached the Cinnamon Trust for help.
Sadly I had to stop when we moved to Binbrook, but Benson was due to retire in the following weeks anyway and was going back to the farm in Lancashire where he'd been born, so I didn't feel too bad.
My next job was to inspect a house to assess it's suitability for re-homing an elderly cat.
Then things went quiet, but in August of last year, just a few weeks before Peter died, I was given another dog walking assignment.
Daisy had become too ill to walk her elderly Jack Russell cross Millie,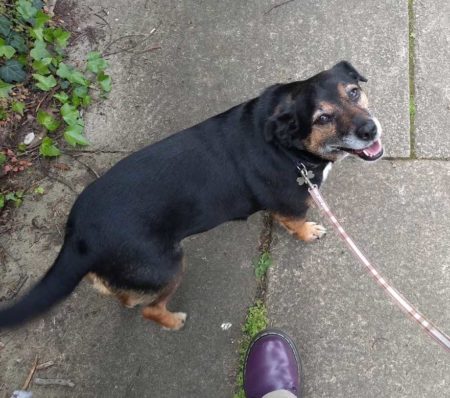 and so the Cinnamon Trust stepped in. Over the 12+ months I've been walking her I have become good friends with Daisy and we will be keeping in touch once I move.
Then a few weeks ago I got another call. Just like Daisy, Bernice was having difficulty giving her 'Westie' Celt the exercise he needed.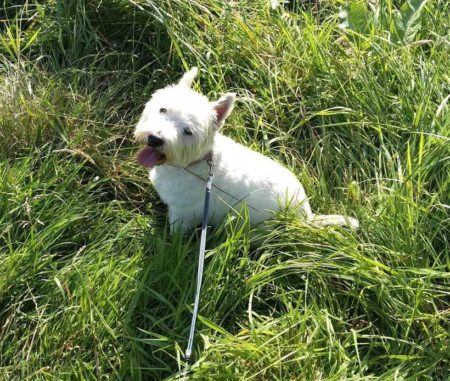 Sadly Bernice had to go in to hospital and Celt has gone to stay with her son so they no longer need me.
I can't think of a more beneficial way to spend a few hours each week. It provides company for the owner, and stops them worrying about their pet not getting enough exercise; it gives the dog a much needed walk; and it makes me feel like I'm doing something good, as well as giving me some fresh air and exercise. Win, win, win, win as far as I can see.
Once I move I will continue volunteering and look forward to making new friends both animal and human.