Posted By Judith on 22nd October 2019
Peter liked a nice sofa, no-one really needs 5 though, and that's what I currently have. Needless to say my impending move means that at least 2 will have to go along with several other large items.
So what do you do?
Well I started off with a local auction house that had been recommended to me. How can I explain that experience?
Imagine being visited by 3 strange men, one of whom only has 1 arm and wears a cowboy hat, who then offer you a derisory amount and look surprised when you ask them to leave.
Intimidating, rude, unprofessional, clearly trying to scare me into a deal. I would have burnt the furniture in the garden before letting them have it.
Next I tried a local antique dealer friend, but sadly she doesn't have enough room on her unit and only bought my dining chairs, but paid me more than twice what the auction house offered me for everything!
Charities don't want to know due to modern fire regulations relating to furniture, so what are you left with? Why EBay and Facebook of course.
I put adverts on both, sat back and waited.
In the 6 or so weeks since, I've had 5 enquiries about my sofas. All have arrived in early to mid-evening. Some are just a single message, others a little more elaborate, not one has resulted in a viewing, never mind a sale.
Are there really sad people out there who, beverage of choice in hand after a long day, get their kicks from enquiring pointlessly about random pieces of furniture?
Incidentally, if anyone is wondering why we actually needed 5 sofas, well here's the answer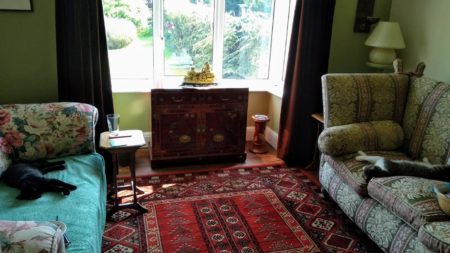 Poppy and Grayson like to have one each!!