Posted By Judith on 8th April 2015
It's not every day you move into a property which had previously been lived in by the same person for over 50 years. We're not of a fanciful disposition, but from the start we both agreed that Gladys's 50 year occupancy had left an impression on the place, and we both wished we'd had the chance to meet her.
Not that she'd done much in the way of improvements, she'd left most things as they had been in 1933 when the place was built, but still her presence was evident in every room.
We had little choice but to re-wire, re-plumb and install central heating and a proper staircase, but after that we agreed we would renovate, re-use and recycle as much of her 'stuff' as we could.
The quarry tiles and shelves from the old pantry were used as a base for the cooker and building the bookshelves, respectively.
Her bath taps are now on our new bath and her bathroom mirror is now in our shower room.
The old larder cupboard which she had been using to house her hot water cylinder, complete with hefty lead pipes, is now a larder cupboard once more.
The wonderful slate fireplace, painted to look like mahogany, is still one of our favourite things and the built in cupboard next to it will one day be painted and filled with some of our own 'stuff'.
The lino tiles in the old kitchen have been lifted to reveal more quarry tiles which look good in our new hall. We've even got a plan to re-use the step ladder, (Gladys's only access to the upstairs) but I'll write about that later.
Can you go too far with this recycling? Peter thinks we have done when the other day I made Gladys's door curtain into a pair of window curtains for the new hall. What do you think?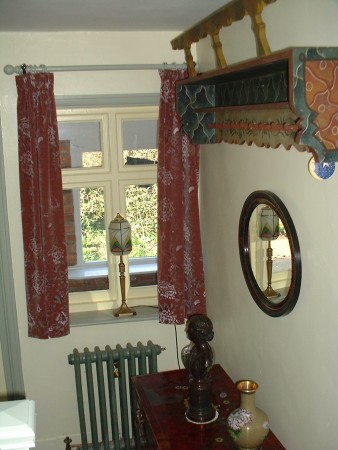 I think they look pretty good. You can also see the coat rack and the table lamp 'in situ'.
We will continue to renovate and redecorate in a sympathetic way, paying due respect to Gladys and the art deco heritage of this 1930's bungalow.
Recycling can be fun.