Posted By Judith on 15th August 2015
I can't think in 3-D, some might say I can't think in 2-D, Peter says that sometimes I don't even think at all! (I'll leave that one for others to debate.) He, on the other hand, can think in 3-D a fact that became very evident in our latest mini project.
Some time ago we bought a solid oak altar. The little plaque on it says November 1949, so it has been around almost 66 years and is covered by roughly the same number of coats of thick brown varnish!
We had the idea of stripping it, and somehow including it in the kitchen renovations. I don't have a picture of it alone in it's original state, but here you can see it during the early, chaotic days at 'Grassy Bottom'. (Extracted from a bigger picture, hence the poor quality.)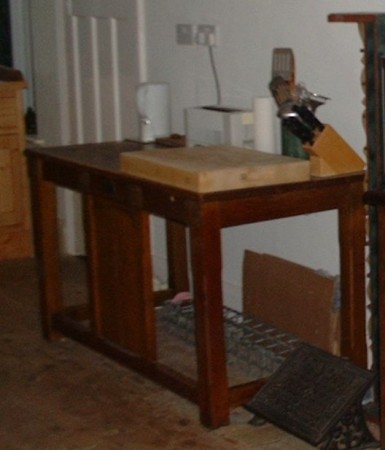 We've decided to use it as a handy 'divider' between the cooking and seating/eating area of the big new kitchen.
Obviously it needs some 'adjustments' to become a useful kitchen/dining item, so we decided to put 2 shelves in it. The top one would provide a home for the microwave and below there should be space for a couple of nice wicker baskets.
To the uninitiated fixing shelves to an existing structure sounds easy, but it isn't, particularly when the shelves in question are to be made out of an old board door and a trap door. Just another example of the recycling of Gladys's stuff that we're trying to do here.
"An old board door and a trap door in an altar? Sounds lovely!", I hear you cry, but bear with me.
The complexities of cutting these solid wooden doors to size is so far above my head that it makes my nose bleed, conseqently I'm absolutely no use at all except for fetching, carrying and holding things steady.
We'd already stripped and painted the frame and stripped and oiled the top as you can see here.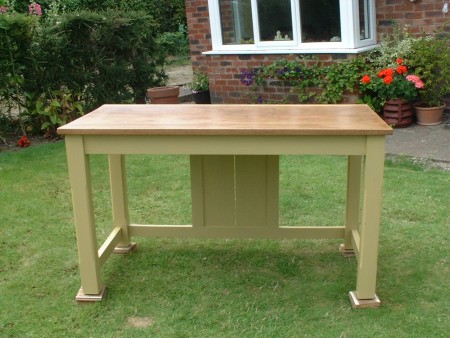 After a lot of hard work, measuring and sawing, sanding and filling the shelves were cut to size and fitted into place along with the microwave.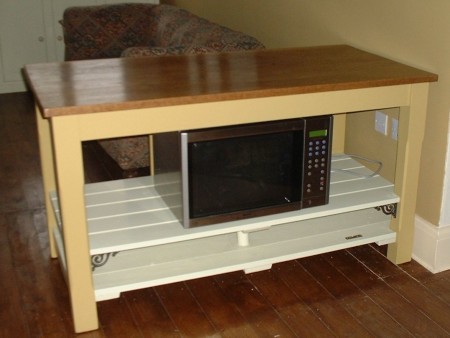 And finally in it's permanent home.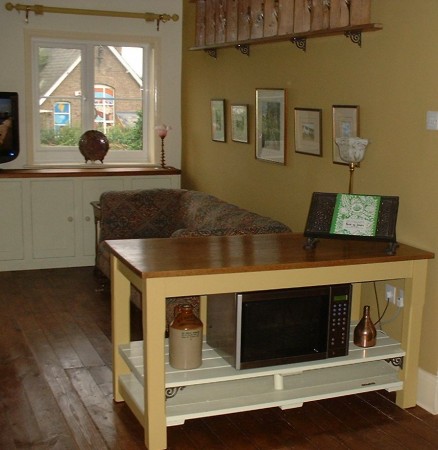 We painted the shelves to match the meter cupboard, which you can see in the background. The colour is the palest green, fancifully called, 'Eau de Nil', though who in the world thinks the water of the Nile is that colour probably needs their eyes testing!