Posted By Judith on 18th December 2018
A couple of weeks ago I took some bottles down to the glass recycling bins in the village. There was a young man there with a little girl, maybe 3 or 4 years old, and he had lifted her up and was letting her post the bottles through the holes into the bins.
How nice, I thought, as I approached them, teaching her the benefits of recycling stuff at an early age. Sadly, as I got closer, I could see they were putting everything through the 'green' hole, regardless of the colour of the actual glass.
If you're going to the trouble of teaching a child to recycle, you could actually go the extra mile and teach her to put them in the right holes!
Before I go off on a rant I think I'll leave the last word to the late, great, Tommy Cooper.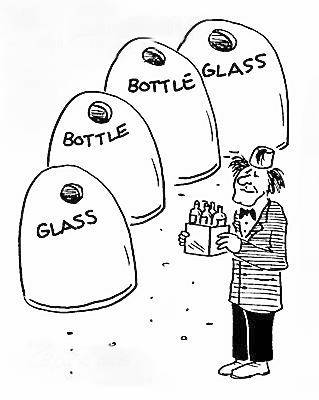 I'll be back on December 29th with my review of 2018. Merry Xmas.