Posted By Judith on 25th June 2018
I realise not everyone enjoys(?) football as I do, and I really feel for 'non-believers' as the TV schedules are taken over by the 'beautiful game' during big competitions.

However, you can't get away from the fact that millions of people world wide love it, so I thought I'd take a look back at the fortunes of the England team in major competitions since we moved to 'Grassy Bottom'.
Before I begin I should say that I'm old enough to remember when England won the World Cup in 1966 so the last "52 years of hurt" have been painful.
World Cup 2014
We'd just about moved into 'Grassy Bottom', inside there was 'stuff' everywhere and outside was even worse.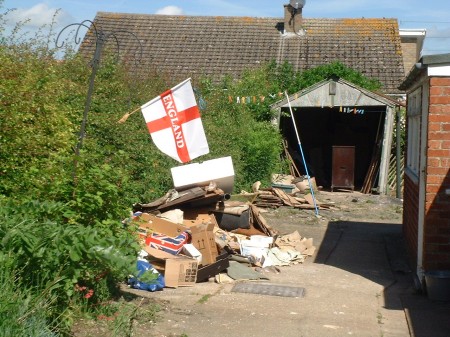 Sadly the England team were also in disarray and were bundled out of the competition very early, finishing bottom of their group.
UEFA European Championship 2016
Two years on things were much more organised indoors whilst outdoors we were in the midst of garden renovations, but I still found a place for my flag.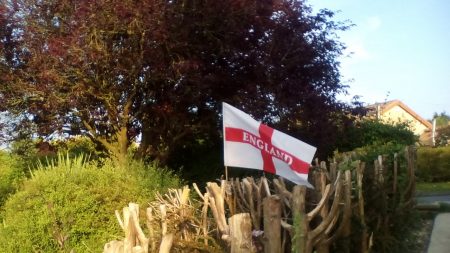 Whilst we were more organised than in 2014 the England team were not and crawled out of the group stage in last place only to face ignominious defeat by Iceland in their first knockout match.
Still it's an ill wind etc. etc. The frozen food retailer of the same name received loads of un-expected free publicity on social media as disgruntled England fans found ever more inventive and amusing ways to vent their frustrations.
World Cup 2018
And so we find ourselves watching another World Cup at 'Grassy Bottom'. The major work both indoors and outdoors has been completed, but Peter and I are left feeling old and tired after the exertions of the last 4 years.
Fortunately the same can't be said about the young, 'new look' England squad which is full of fit young men hoping to make a name for themselves. There's a new manager too. Things are looking (or at least sounding) positive, but we've been here before.
Out came my flag.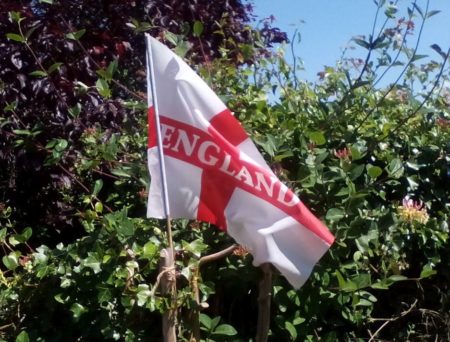 18.06.18 England v Tunisia
After a cheeky opening goal by captain Harry Kane in the 11th minute and several missed chances we fell foul (see what I did there?) of a soft penalty decision. It was all down hill from there and looked like we were heading for a disappointing draw. Then in injury time up stepped Kane to save the day.
Final score England 2 Tunisia 1.
What made this result particularly heartening was that 3 of the top teams (Brazil, Portugal, Spain) could only manage a draw and Germany actually lost!! 😀 (Proper schadenfreude!)
24.06.18 England v Panama
The first half was a bad tempered affair and the England players were kicked and man-handled mercilessly, yet managed to go in at half time with a 5-0 lead.
The second half was less frenzied. Final score England 6 Panama 1.
The final game of the group stage is against Belgium on Thursday and whatever the outcome England are through to the knockout rounds.
Dare we begin to dream?