Posted By Judith on 30th July 2019
It was 04.30am in Aberdeenshire on the Tuesday morning of my return home. We were to be up early so I could catch my train, not that early, but I needed the loo. Nothing unusual in that. (It's an age thing)
I slipped out of my bedroom, bare feet, no glasses and headed downstairs. Or at least that was the plan.
I took the left-hand bend at the top of the stairs too sharply and as a result put my foot on what was literally the thin end of a wedge. My foot slipped on the carpet and off I went.
The next bit was in slow motion as these things often are. I slid quite serenely towards the bottom and remember wondering what would happen when I reached the right-hand bend that awaited me there.
I needn't have worried, just as if I had been alighting from a child's playground slide, I reached the bottom, stood up and walked through into the bathroom.
No-one noticed, the dogs didn't even bark.
On returning to bed I thought I'd better check for damage. Other than my dignity, the only thing bruised was my right thumb, not broken, but swollen and painful nevertheless.
Carrying my luggage on the train was going to be fun, good job I hadn't bought any heavy presents for the family.
What do you buy a busy working Mum, juggling family, job and major house renovations? Why a guardian angel of course and then something to make her smile. Check these out.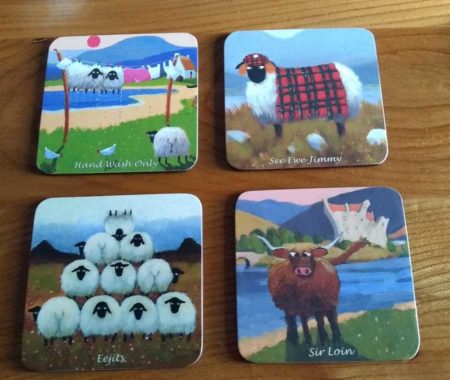 It was actually a full 4 weeks before my thumb got back to anywhere near normal. A small hiccup in the grand scheme of things, but you don't realise how much you rely on even the smallest thing until it stops working for you.
A useful life lesson I think.