Posted By Judith on 2nd August 2014
It's been very hot this week, so all I've really done is a bit of painting upstairs. The only thing more boring than watching paint dry is reading about watching paint dry, so I thought I'd write about the garden instead.
In my previous post I tended to concentrate on the positives. The size, lay-out and good collection of quality plants. There are, however, some areas that are less appealing. These can be summed up in one word. Concrete.
The garden is full of it. Take a look at this for example.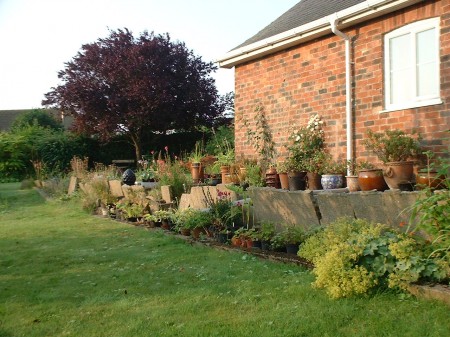 Ignore the two tiers of plant pots, they are what we brought with us, try to imagine if they weren't there.
These upright concrete slabs stretch almost half the length of the garden, and we just can't imagine what they were ever intended to be, certainly not pretty.
Here you can see them again, but also the ridiculous arrangement for dispersing the rain water from the roof. A troughing on the ground!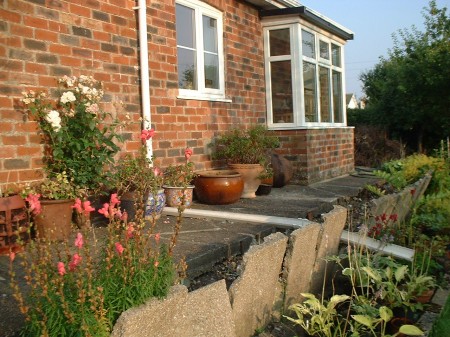 We need a few fit young men and a skip to dig all the slabs up and replace them with some suitable terracing to allow for the gradient of the land. That may have to wait until next year, but whenever it happens it will be very hard work.
Speaking of which.
Did I mention that Leonard's far too busy to help. In fact he finds the whole thing rather tiring. Sleeping next to the tool box is as close as he gets to doing a job. Well you can't be too careful, can you?