Posted By Judith on 14th May 2017
I'm pleased to announce that on Wednesday May 10th the swallows returned to 'Grassy Bottom'. Actually we thought we'd seen an odd one a few days earlier, but as we know that doesn't make a summer!
However, on Wednesday the 10th there were lots of them and what's more one pair seem to be building a nest in the garage roof.
I'd love to know if it's the same pair who 'viewed' it last year, buy sadly I never will.
Whilst it is good news on the swallow front, I'm afraid the same can't be said for the recently germinated seedlings.
Having had their 'bottom heat' removed and following a week of icy winds blowing down from the arctic, a lot of them are wishing they'd never joined, even though they are still in the relative 'warmth' of the porch. There have been many casualties.
A thing they have in common with the swallow population it seems, as according to the R.S.P.B. many birds die during their long migration. Apparently ours (the UK's not 'Grassy Bottom's') over-winter in South Africa and Namibia sometimes traveling up to 200 miles per day.
No need for a packed lunch, they eat on the wing, but perhaps they should rethink this strategy as sadly starvation is the cause of many of the fatalities. The lucky ones can live as long as 16 years.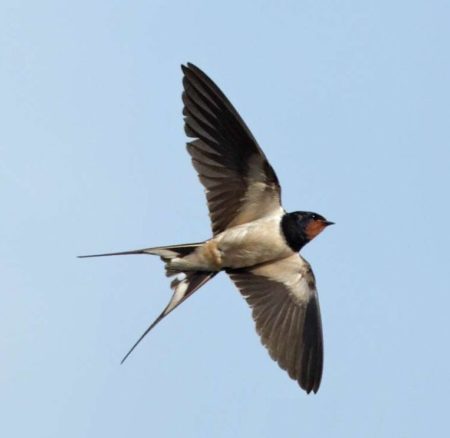 (Not my photo.)
The more I hear about these amazing aerial acrobats the more I admire them and I'm happy that they have found a safe home in our garage roof.
So whether it's swallows or seedlings, I'm just grateful for the ones who have made it this far, let's hope we all have a good summer.