Posted By Judith on 26th July 2021
I've been to visit my sister in Scotland 4 times now. The first couple of times were for our parents' funerals, then once for a short holiday pre-covid and then this most recent time, post-pandemic. (Hopefully)
My pre-covid trip was great, until the last night when I fell down the steps and hurt my thumb. It's never been quite right since.
This most recent trip was far less traumatic, though there was a delay on the journey up due to a medical emergency on the train and we had to wait at the station just after Edinburgh for the ambulance to come and remove the hapless passenger for medical care.
I've already written about some of the beautiful places we visited, but the most interesting of all was the morning we spent at a local Falconry Centre.
I'm not a fan of seeing animals and birds in cages, but I have to say all the raptors that we saw appeared to be happy, healthy and well adjusted.
Though not sure about the young man on the admissions desk when I asked him for "3 pensioners please". Janice said from the look on his face he didn't know whether to laugh, cry or ask me if I wanted them gift wrapped!
Don't know who this little guy is, but he was ever so cute.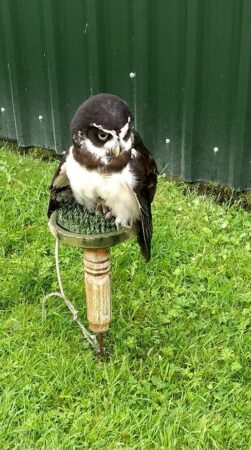 The best bit was taking part in the flying display where you could interact with the birds. Different ones get flown in rotation and we had the pleasure of meeting 1-year-old Harris Hawk 'Zeus'; 5-year-old Barn Owl 'Florence'; and 22-year-old African Spotted Eagle Owl 'Spotty'.
One of the best pictures I took was of my sister with 'Florence', but as Janice has no wish to become an internet sensation, (don't know about 'Florence') I've had to remove her head!!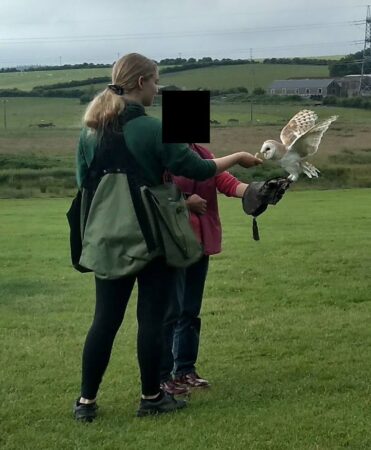 Janice is a vegetarian and I'm a lapsed 'non-meat eater' (Janice says I've gone over to the dark side) so we were both slightly perturbed when a dead, 1-day old chick was wafted under our noses to try and persuade 'Florence' to fly.
She seemed more interested in nibbling my fingers.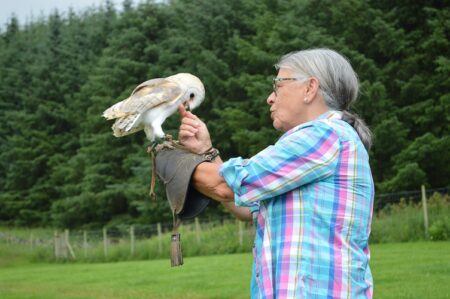 This is 'Zeus'.
And last but not least 'Spotty'.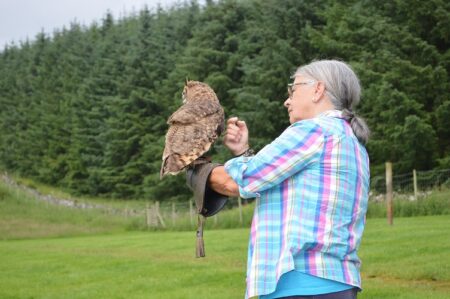 Turns out Graham doesn't want to be an internet sensation either, so I'm afraid he's lost his head too!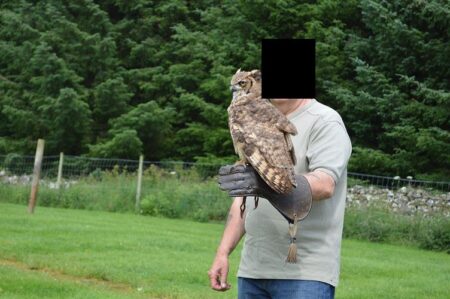 If you happen to be in Aberdeenshire I can highly recommend a trip to Huntly Falconry Centre. A great and unforgettable experience.