Posted By Judith on 10th September 2019
Once the decision to move had been made and the deals done, the next question was, 'to pack or not to pack?' My first instinct was that it was a bit beyond me, and so I got a quote from the removal firm which was quite reasonable considering how much 'stuff' I have. But could I really sit looking at it all for the next 8-10 weeks and not DO anything?
Once again, just like with the fireplace, the 2 most important ladies in my life stepped in to help. "Obviously it's up to you" they said, "but we think you can do it."
So I decided I would.
First step wasn't so much packing up as throwing out, there were things in the shed older than I am, that hadn't seen the light of day since the last move, so they were first to go.
It was so full I could have qualified for one of those 'hoarder' programmes on TV. I still remember the garage/shed debacle when we left 'Ravendale House' and I was determined that wasn't going to happen again.
This is what it looks like now, a huge improvement.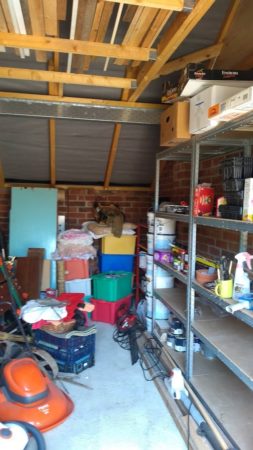 The charity shops also did well, and so the first 2-3 weeks were spent entirely on clearing out.
Even then I still had a load of 'stuff' left.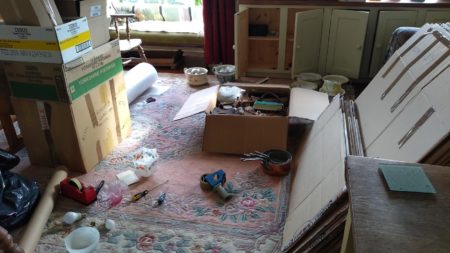 Grayson did try to help,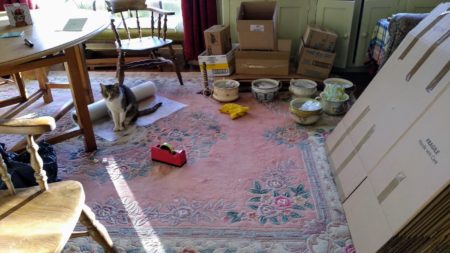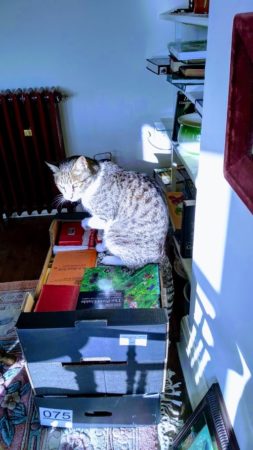 but most days he just preferred to guard my knitting!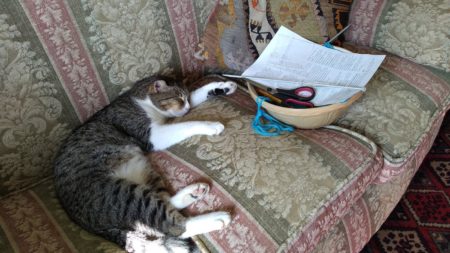 Even after I'd sold the dining chairs it still seemed full!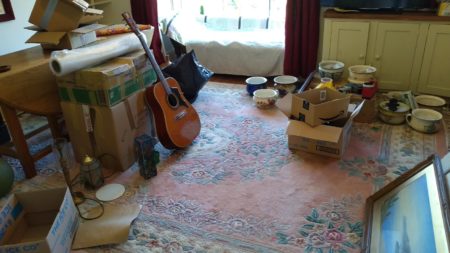 Some days even getting to the downstairs loo was a challenge,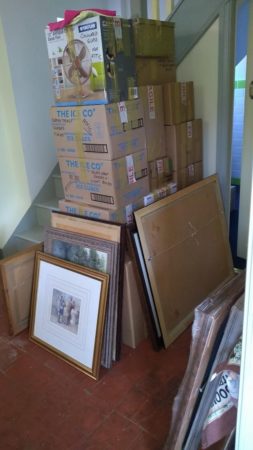 and I had to wait for a sunny day to collect more boxes,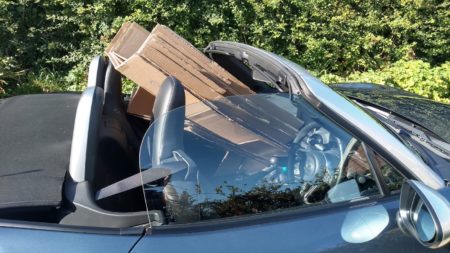 then I ran out of bubble wrap.
Not the end of the world because it coincided with that very hot spell around August Bank Holiday, which was really not packing weather.
I sat in the garden and looked back on the last 12 months.
'You couldn't make it up' doesn't even come close to describing the dark and depressing lows, the wonderful, life-affirming highs and all the bits in-between.
I achieved things I thought were completely beyond me.
My proudest moments?
Sorting out probate without a solicitor; doing up the fireplace; transferring the 4 websites I want to keep, into my name; moving my computer and monitor from one side of the room to the other, and they both still worked!!
But the proudest of all?
Being called 'Auntie'.