Posted By Judith on 19th May 2016
The 3 ton digger returned on Tuesday lunchtime, also Adrian along with Brett and David for extra muscle power, and boy did they need it.
We always knew there was one last tranche of destruction to come, digging up the remaining concrete at the far end of the house, which has become a bit of a dumping ground for broken bricks and cement over the last few weeks, and along the drive to the road, but I think we were both shocked at the amount there was.
Work started outside the garage, just out of shot to the right here,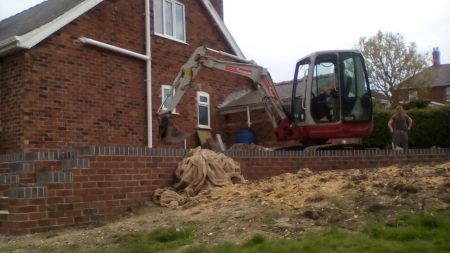 which didn't exactly do much for 'swallow husbandry', but what can you do?
To continue on the wildlife theme for a moment, it amazes me how a young man who appears to spend every available weekend shooting birds and animals for sport (?!) has the inclination, not to mention the eyesight, to spot and save a brown toad whose home he has just destroyed. Though why the toad thought a pile of builders rubble was a good place to settle in the first place is a mystery.
This next picture might give you some idea as to the scale of the task.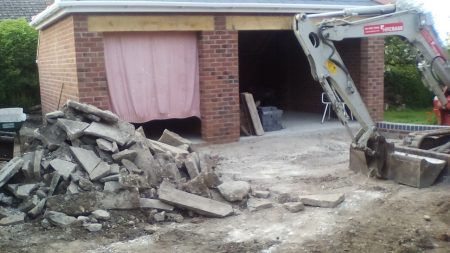 As well as removing old concrete the whole area has to be leveled in readiness for the new gravel.
Typically yesterday was wet and once more the deep, sticky mud stole the shoes of the unwary. Despite this, work continued along the back of the house, this is what it looked like outside the back door at lunchtime,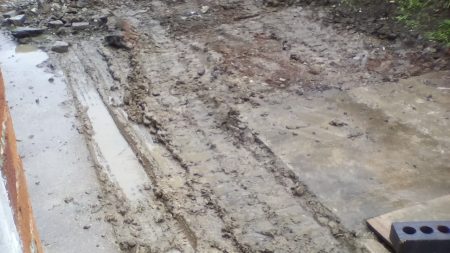 and by teatime it looked like this.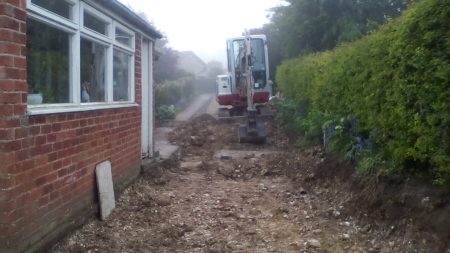 Work will continue today up the drive to the road.